Last year, the second annual Tom Bass Diversity in Equestrian Sports Seminar took place in an equestrian community which, like the world at large, had apparently been shaken by an earthquake. The murder of George Floyd in Minneapolis and the widespread racial justice protests that followed sparked difficult conversations about the lack of diversity in equestrian sports. The 2020 seminar, hosted via Zoom due to the ongoing COVID-19 pandemic, included a presentation from the American Equestrian Federation on its newly announced diversity and inclusion program.
This year's seminar, held on Zoom on November 20, provided an opportunity to discuss the real progress that has been made instead of just aspirations. Moderator Melvin Cox, Managing Director of SportsQuest International LLC and lecturer at the University of California at Santa Cruz, led the panel discussion and answered questions submitted by members of the public.
The seminar focused on five main areas: national efforts, opportunities for young people, entrepreneurship and the horse trade, media and international efforts.
Panelists included:
• Jeff Chambers of Legacy Multimedia Productions, director of "The Next 8 Seconds", a documentary that chronicles the life and career of black bull rider Neil Holmes
• Lydia Heywood, Jamaican rider based in the UK and founder of Cool Ridings Equestrian, an organization for British riders in developing countries
• Elizabeth McCall, journalist, author and media consultant
• Mia Rodier-Dawallo, international para-dressage competitor
• Ashley Swift, USEF Affiliate and Communications Specialist
USEF's Swift provided an update on the organization's efforts on diversity, equity and inclusion. Last year, the organization announced the creation of the USEF Opportunities Fund, which the board voted to seed with $ 50,000. The fund will provide grants to local organizations that improve access to horses, equestrian sports and equine learning opportunities in underserved communities. Grants will be awarded through a competitive application process, with the first funds awarded in 2022.
USEF has also completed a DCI training initiative for organizational leadership and plans to complete similar training for certified public servants before 2023, Swift said. A similar voluntary educational program is underway for members of the organization.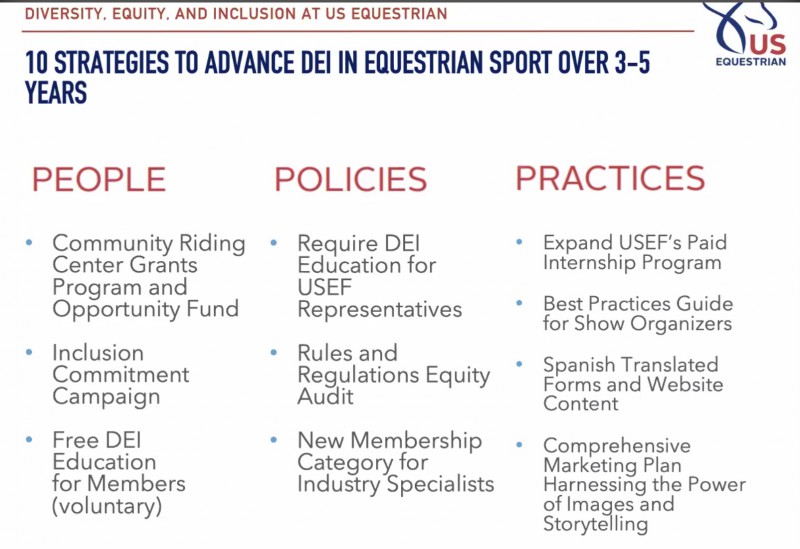 Swift noted that an update on the implementation of USEF's DCI action plan will be provided during the general session of the annual meeting, which will be held Jan. 13-15 in Naples, Florida. (The general session will be broadcast live, Swift said.)
"It's been a long time coming," Cox said. "USEF doing this is a very, very good thing. "
Among other concrete advances, Spickard of Eventing Nation, a member of the board of directors of Strides For Equality Equestrians, noted that the organization had awarded its first Ever So Sweet scholarship. The semi-annual scholarship provides two months of training with Sara Kozumplik Murphy and Brian Murphy, covering the cost of full board and training for the winner's horse and rider's accommodation, as well as a stipend to cover living expenses, expenses competition and training. at competitions. The scholarship aims to provide educational and networking opportunities to various young people interested in equestrian careers.
Panelists also highlighted the importance of raising marginalized voices, whether that is by providing a sense of community and a space for riders of color to share their own experiences, or by valuing their stories in the media. Randy Savvy, co-founder of the Compton Cowboys, explained how he captured a pivotal moment in popular culture and staged a protest mounted during last summer's racial justice protests that led to a major story in New York City Times. Similarly, Jeff Chambers is working on a documentary about Shayna Simon, who traveled to the Tokyo Paralympic Games to train para-dressage competitor Beatrice de Lavalette.
Spickard highlighted the importance of the Tokyo Olympics last summer and the participation of more small Asian countries that are generally not known for equestrian activities. Cox also pointed out that Japanese jumping rider Daisuke Fukushima finished sixth in the individual event in Tokyo with two clear rounds.
This was the third annual Tom Bass Seminar, which was named in honor of the legendary American saddle horse trainer who died in 1934. Bass was born a slave in Columbia, Missouri, and played a leading role plan in the creation of the American Royal Horse Show. in Kansas City and in promoting Mexico City, Missouri, as the "saddle horse capital of the world".
The first seminar was held in 2019 as part of the annual African Riding Day at the Tryon International Equestrian Center (North Carolina).
An archived recording of this year's seminar will be posted on YouTube.
Source link