A year ago, Hermès inaugurated a new naturalist space within the Somerset Collection in Troy, the brand's first boutique in the Greater Detroit region.
Inspired by Michigan landscapes, the store features a series of serene alcoves in warm earth tones accented with elements evoking sky, water, forests and rock formations.
Now, a year later, the brand presents its first public exhibition in quite some time – Hermes in the making – in Troy.
This exploration of contemporary Hermès manufacturing will show how objects designed to last are created using artisanal techniques. It will include demonstrations by Hermès artisans based in France and the United States.
According to Diane Mahady, Executive Vice President of Sales and Merchandising for Hermès USA, "We are thrilled to have the opportunity to invite the Detroit community behind the scenes and share the work of our artisans, as well as the real journey and the know-how of our products in the process of being manufactured. »
Somerset is the first – and only of two planned – stages of this traveling exhibition.
"Detroit is a special place for us. The renaissance around craftsmanship and art taking place in and around the city offers many synergies with our brand.
She adds, "In fact, the zipper on our first handbag was inspired by a car, so you could say there was inspiration from the motor city from the start.
As part of the programming, Hermès organizes roundtables at the College for Creative Studies (CCS) to discuss the importance of repairing, transmitting and nurturing artisanal practices in the contemporary world.
The panels are moderated by Rebecca van Bergen, founder of Nest, a nonprofit that is building a new economy of manual workers to advance global workforce inclusiveness, the well-being of women in the beyond factories and cultural preservation.
van Bergen says,
It's an opportunity to bring together a diverse group of students, makers, customers and customers from all walks of life in Detroit around shared topics and beliefs and engage in conversations about the importance of craftsmanship and product longevity.
Panel discussions also include fashion designer and Detroit native Tracy Reese and Aki Choklat, chair of fashion design at the College for Creative Studies.
On this subject, says van Bergen,
Tracy runs a brand and product in Detroit, and steeped in local manufacturing history. As such, she brings such an important perspective to conversations. And Aki is literally pioneering the future and shaping Detroit's next generation of fashion and sustainability leaders.
The exhibition itself presents four themes that underpin the history and life of Hermès, the preservation and transmission of know-how, respect and quality of materials, long-term commitment and regional anchoring. .
Hermès craftsmen bring with them their tools, their materials and their know-how, and the themes are declined through various workshops including a demonstration of artisanal silk printing, a mini-workshop of silkscreen printing, a demonstration of repair of leather as well as a leather and upholstery workshop. make a demonstration
Mahadi says,
Hermès is a six-generation family business and this longevity and this idea of ​​long-term commitment are in our DNA. Each of these themes are represented in different ways, but ultimately align with the importance of taking the time to complete projects that last a lifetime.
The exhibition includes a variety of interactive games that engage all five senses, including workshops focusing on dexterity, musical composition using round knives, coloring and more. Visitors will also be able to view films from the "Steps across the world" collection produced by documentary filmmaker Frédéric Laffont, which expresses Hermès' unique link with sustainable development.
Mahady says, "Durability and quality of materials are of the utmost importance to us. In a society that is changing so rapidly, Hermès slows the pace and manufactures products that last a lifetime and focus on repair rather than replacement.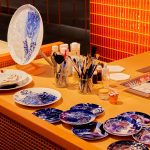 In closing, Mahady said the expo was really for everyone, saying, "It feels like Hermès is less accessible since we're a luxury brand, but this event is designed for children, adults and everyone else and it's a lot of fun."
Hermès in the making kicked off in Copenhagen, traveled to Turin, Italy, last month and runs from June 10-15 behind the Hermès boutique at The Somerset Collection. It will then continue to other cities.
As always, be sure to subscribe to our newsletter for regular updates on all things Detroit and more.
PHOTO CREDIT: William Jess Laird